Step 1 - Sign up to Binance
Click here to start the sign up process to Binance.
Enter your details: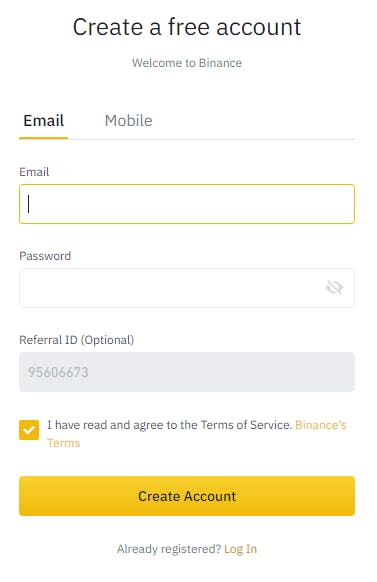 Securing your account is extremely important, click verify: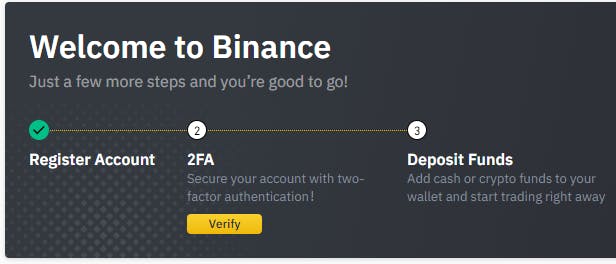 Follow the steps to enable Phone and 2 Factor Authentication (Google verification):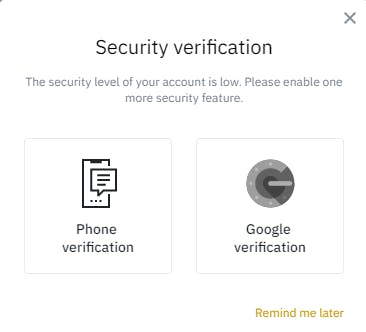 Congratulations, you're signed up! Now we need to get your account verified, to do this, go into your account settings: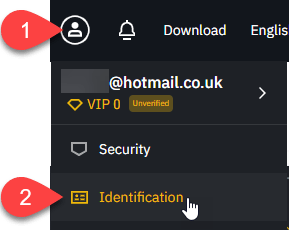 Follow the steps to verify your identity and then your address: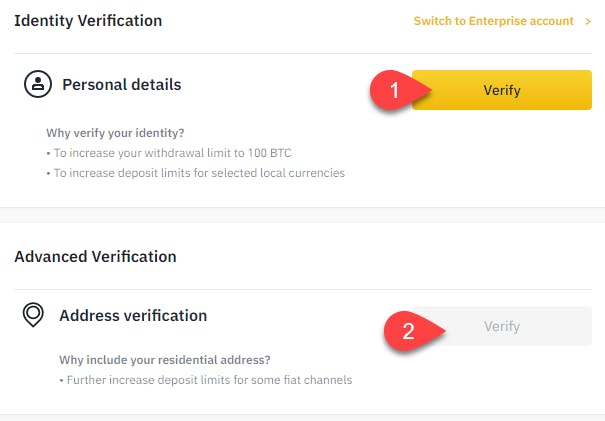 Now we need to make sure you're paying the lowest amount of fees.
Click your account icon and then your email: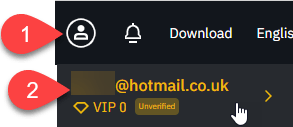 Scroll down and on the left-hand side you will see the below image: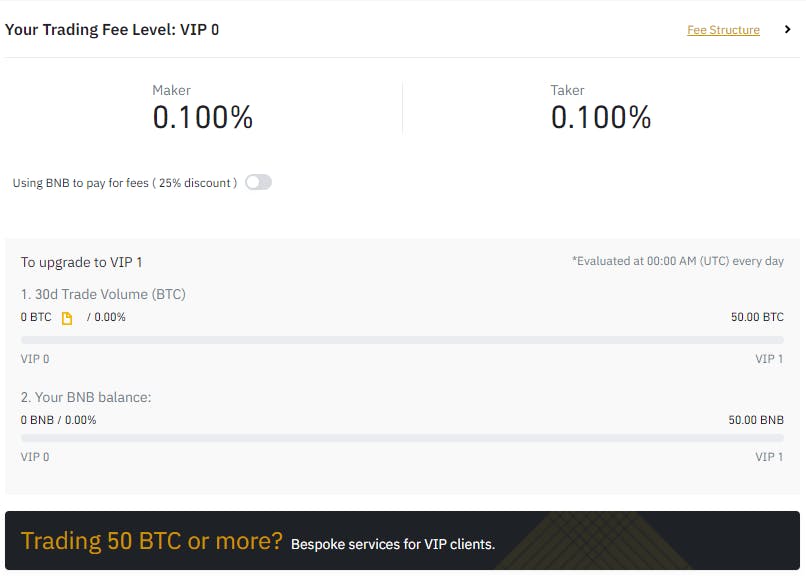 Check the 'Using BNB to pay for fees' option. Now every time you pay fees you will get a 25% discount by paying in BNB (Binance Coin). You will need to buy a small amount of BNB and hold it in your wallet for the discount to activate: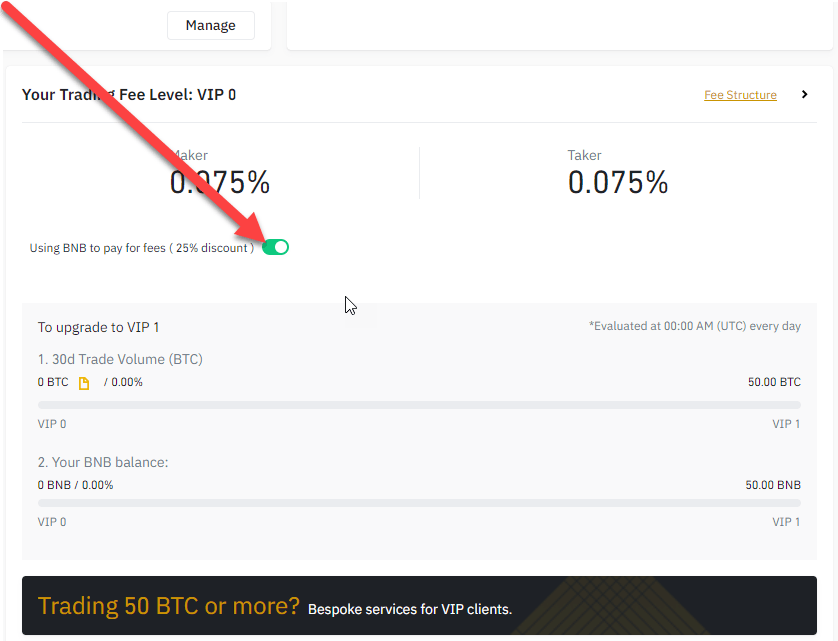 We recommend funding your account via a bank deposit, as this is the cheapest way, because it's free! To access the Bank Deposits page, follow the steps below (for step 1 select your local currency if its not GBP):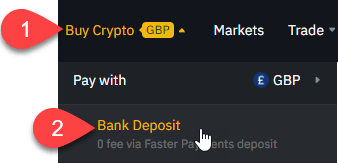 Follow the steps for the Faster Payments option, note that this can take up to 1-2 business days to process, but we've used this method and had deposits within a few hours.
If you cannot wait, use the Bank Card (Visa/MC) option, but this will have a fee: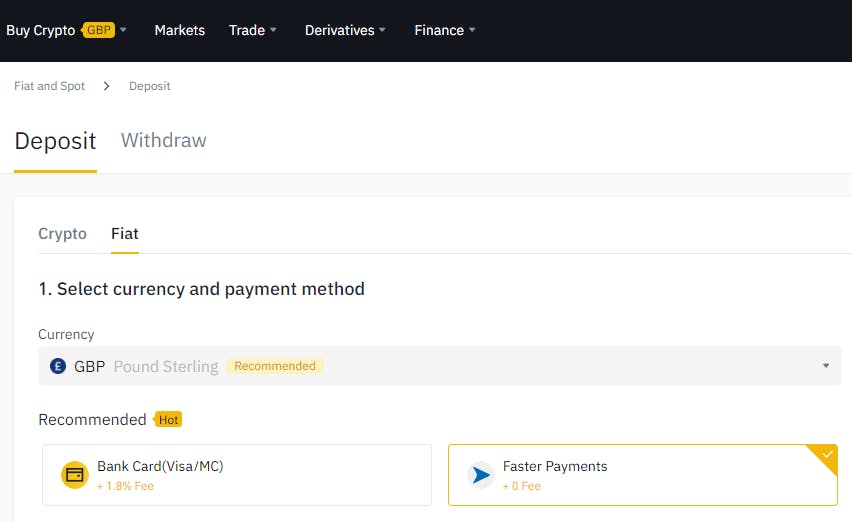 To buy Crypto, we recommend using the Classic Spot Trade: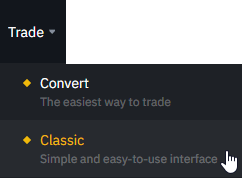 We recommend watching this short introductory video on how to Spot Trade on Binance. Getting comfortable with the spot trading on Binance will be key, as you will need to spot trade to access most of the different Cryptocurrencies that are available. This is the same for most other Cryptocurrency exchanges as well, so it's best to get used to using Spot trading as soon as you can.
Step 2 - Install MetaMask
You will need a Wallet to keep your Cryptos safe. A Wallet in the crypto world is like a bank account, but for your Cryptocurrencies. Our wallet of choice is MetaMask; however, those of you with more experience may have a preferred wallet of choice already.
Go to and select the appropriate download for your device. We mostly use MetaMask on Chrome: https://metamask.io/download.html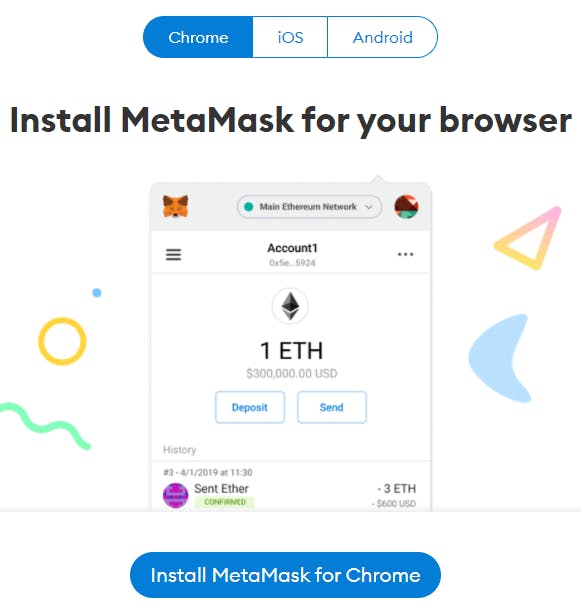 Follow the steps to install MetaMask for your device. You will eventually get to a screen which will ask you if you have a seed phrase or if you need to create a wallet.
Select Create a Wallet: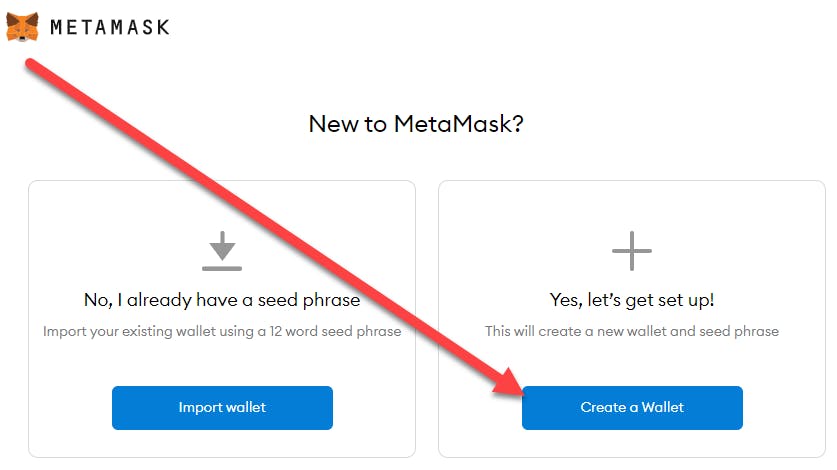 We're signing up using Chrome - your experience might be slightly different if you've chosen mobile. Create a strong password and click create: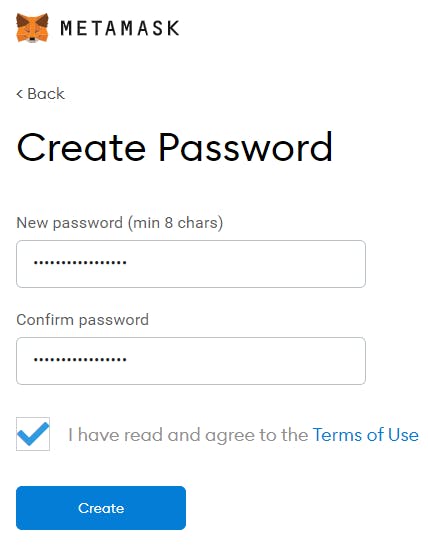 You will be taken to a screen which will contain your Secret Backup Phrase. Click reveal SECRET WORDS: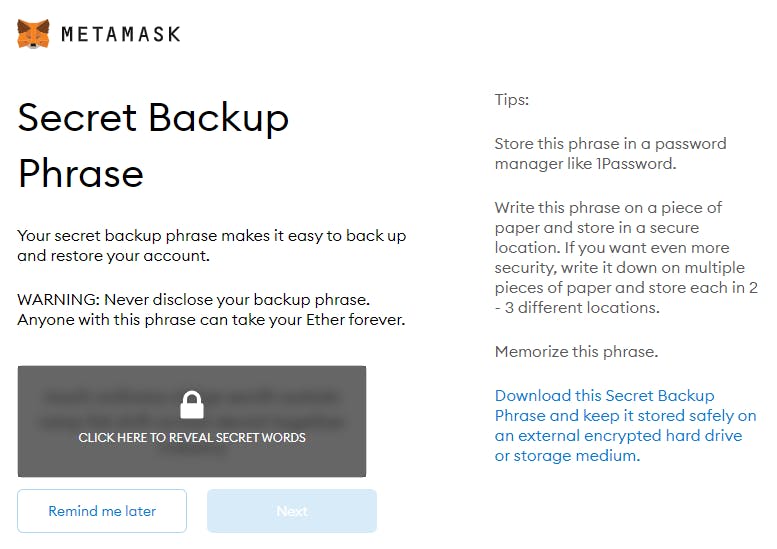 We need to talk to you about a few rules when it comes to your wallet seed phrase. Remember your wallet is like your Cryptocurrency version of a bank account. Your wallet seed phrase is therefore the login details to your bank account.
One of the best things about Cryptocurrencies is that they're decentralised. This means that no one controls your account or what you do with your money. The downside is if you lose your details (wallet seed phrase), your account is lost forever. There is no one to call to help you get back into your account. It's gone unless you have this special wallet seed phrase.
It's therefore super important that you record and store this wallet seed phrase in a very safe place.
You should also never share your wallet seed phrase with anyone. Scammers will try and trick you into giving your wallet seed phrase to them. Never ever give your wallet seed phrase to anyone.
Okay, now that you've recorded your wallet seed phrase and stored it in a safe place, click next.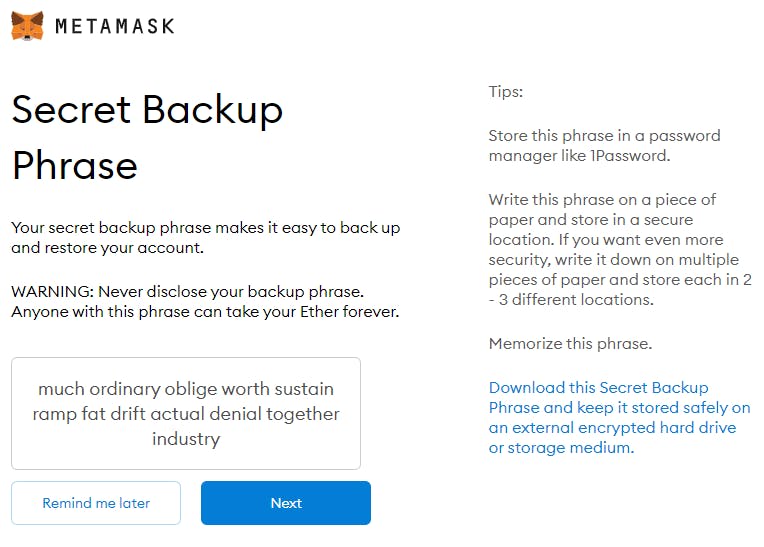 Now you will be asked to repeat your wallet seed phrase in the correct order. Once you've done this click confirm: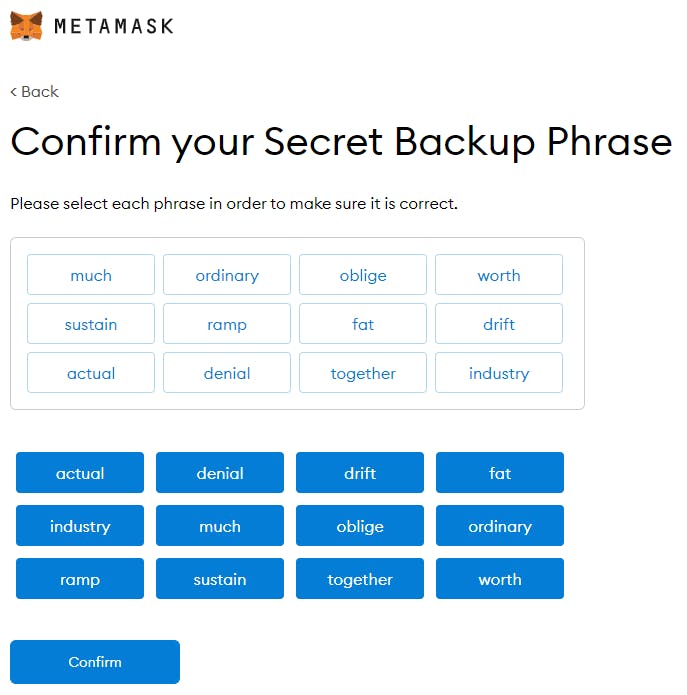 Your wallet is now created!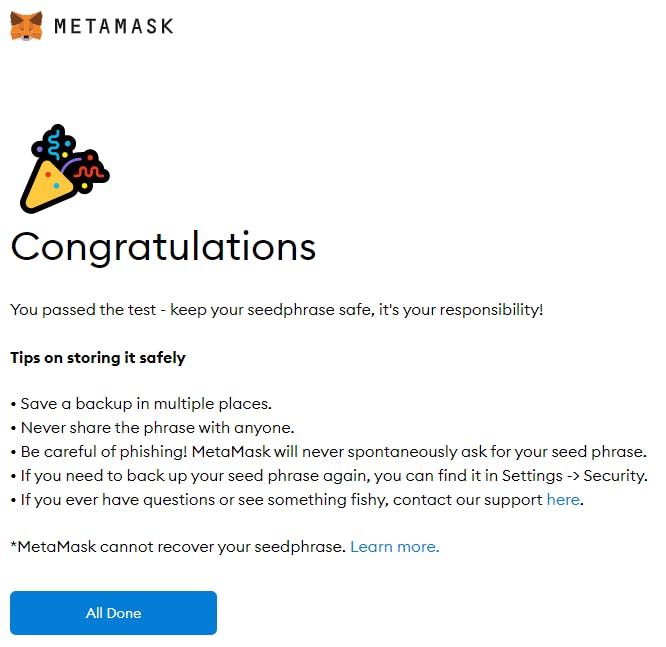 To access your wallet in your browser, click the fox head: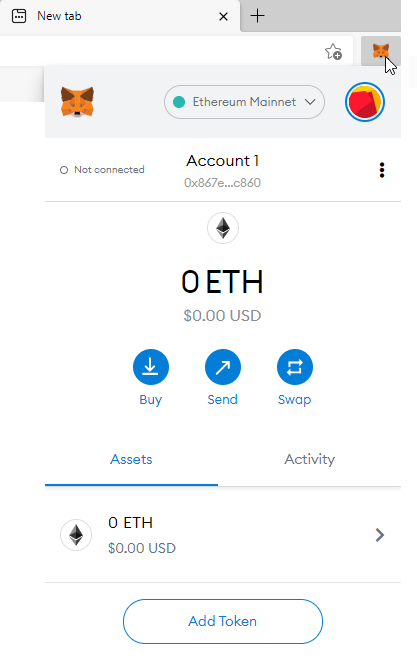 Congratulations, your wallet is now created. If you would like to set up your wallet on another device, your phone for example, then you will need to install MetaMask on that device, enter your wallet seed phrase, and your account will then show up.
Step 3 - Connecting the Binance Smart Chain (BSC) to MetaMask
We use Pancake Swap a lot for our trading, because the fees are really low, especially when compared to Ethereum. Pancake uses the Binance Smart Chain(BSC), so we need to add BSC to our MetaMask in order to perform transactions. This can be a little tricky for beginners, but we will do our best to walk you through the process. If you get stuck, you can also consult the office guide here.
Open MetaMask (note: this guide will be in Chrome) and select Expand view: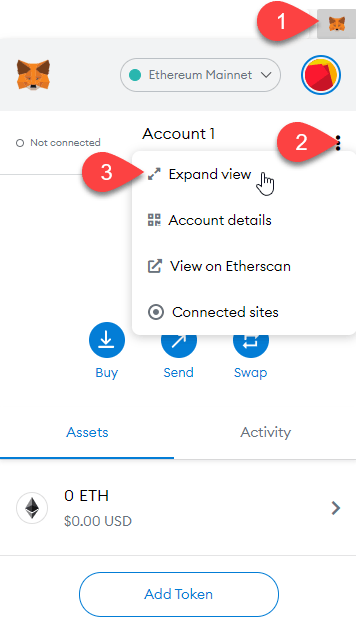 Now select Custom RPC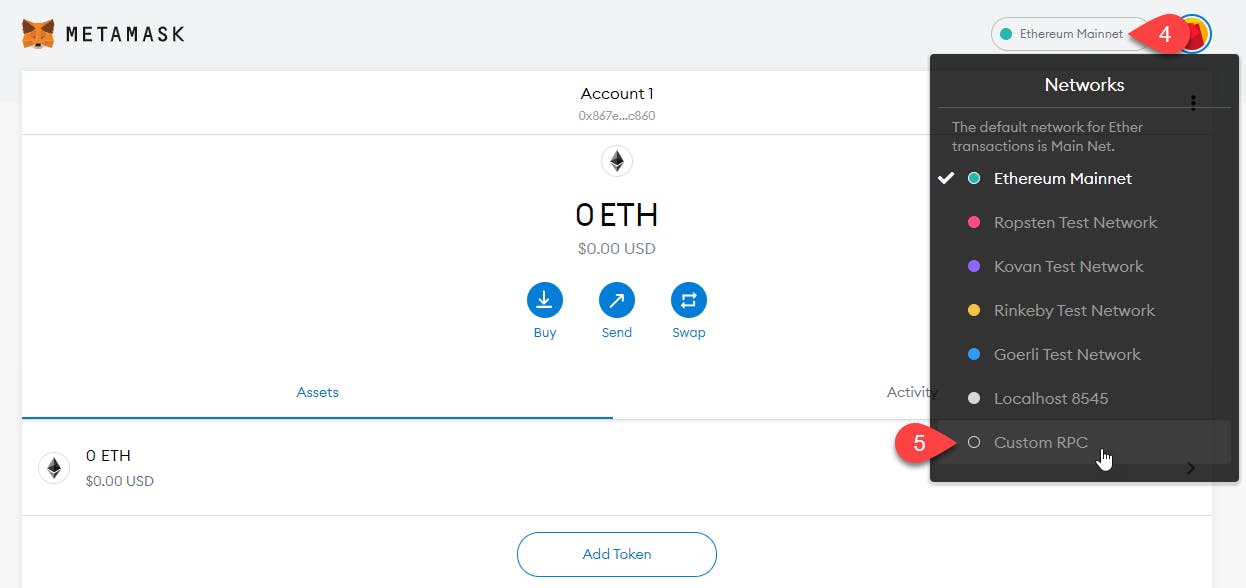 You will get a page like the below: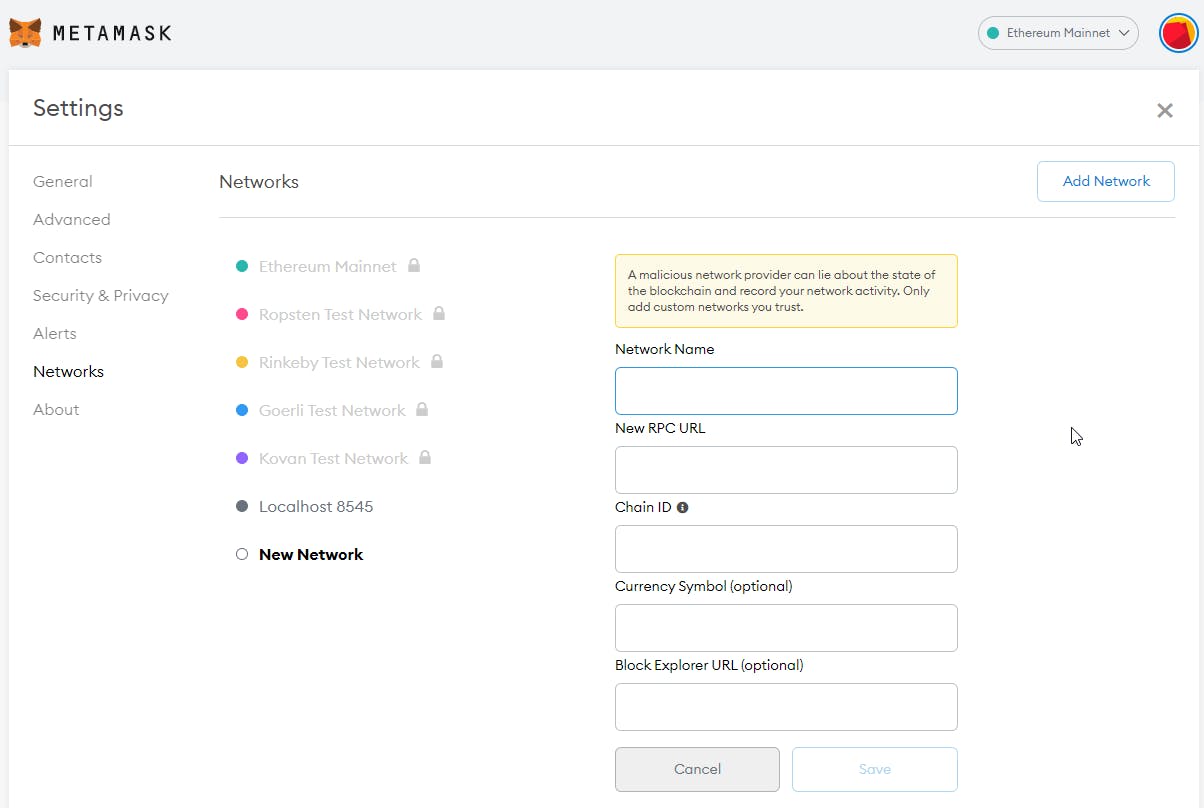 Copy and paste the below information into the boxes:
Network Name = Smart Chain
New RPC URL = https://bsc-dataseed.binance.org/
Chain ID = 56
Currency Symbol (optional) = BNB
Block Explorer URL (optional) = https://bscscan.com
The completed information should look like the below image (make sure when you copy the URLs that there's no space after the end):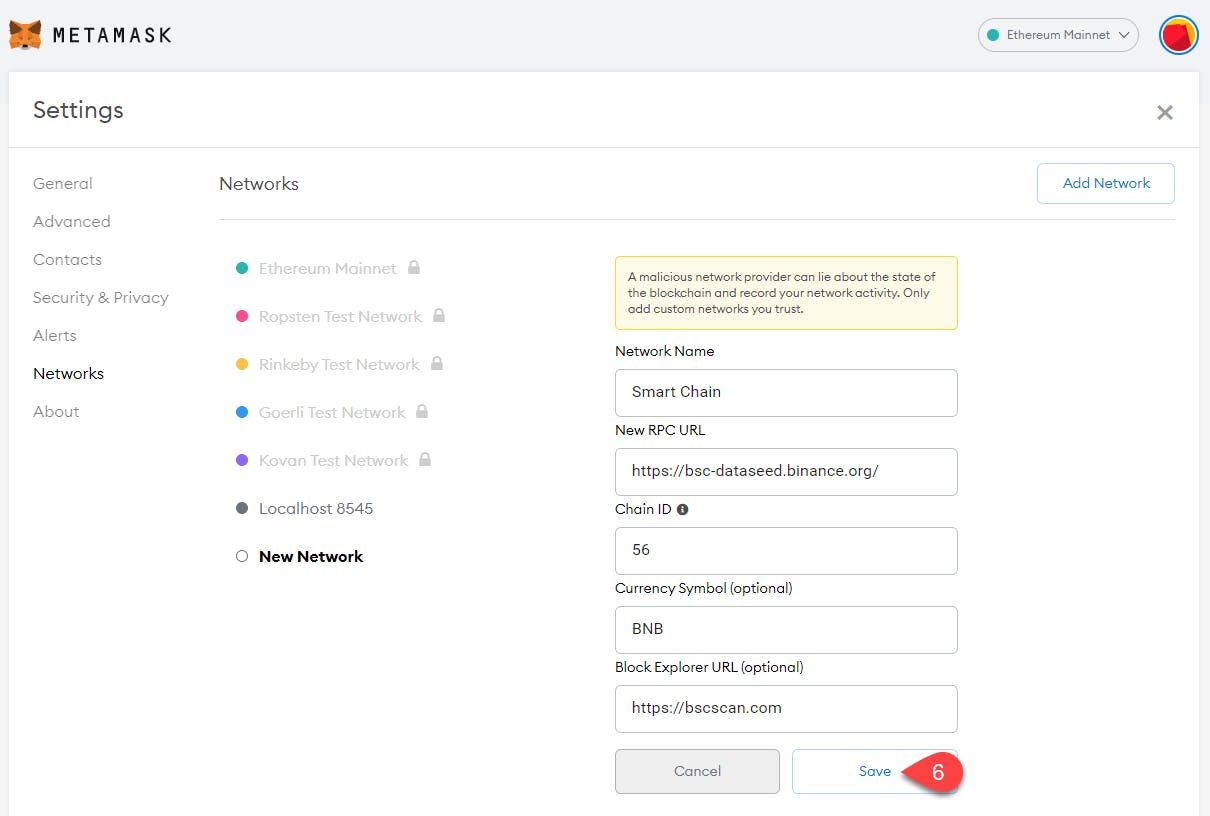 Click the X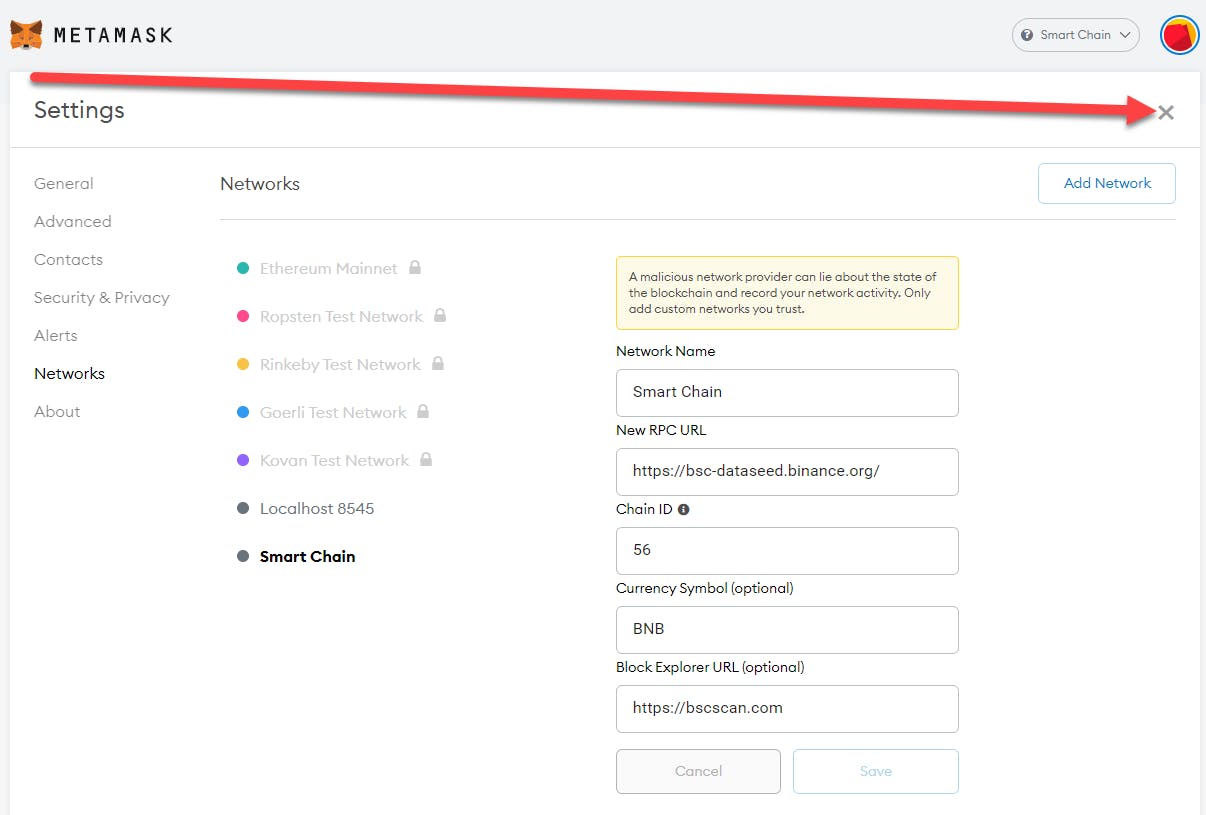 Now your MetaMask is configured to use the Binance Smart Chain: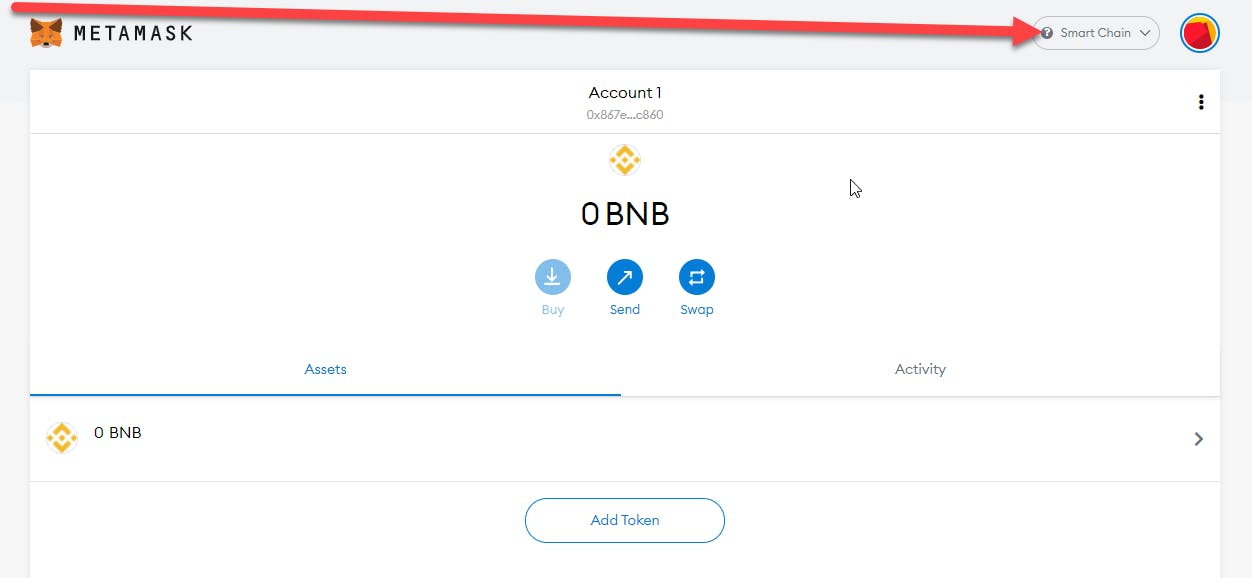 You may need to switch networks between the BSC and Ethereum, depending on the networks the sites you're interacting with use. To do that, select the drop down and switch networks accordingly: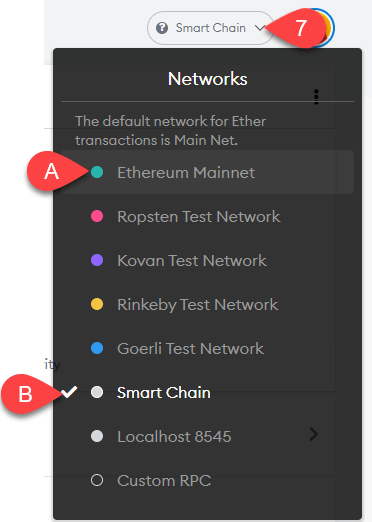 Now the next step we recommend is to send a small amount of BUSD (Binance USD) to your newly configured Binance Smart Chain (BSC) wallet.
To do this, you will first need to know the address of your wallet, this can be found by: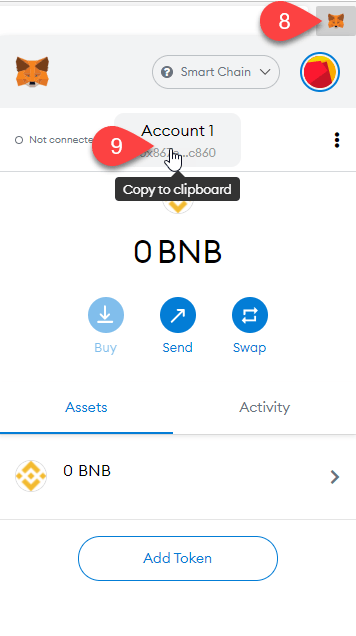 Clicking on the name of your account will copy your address. In this example, the address is:
0x867ee0324D1E037F34f70bD1574A2FCF1505c860
Note - For those of you used to using Ethereum on Metamask, the Binance Smart Chain wallet address is the same as your Ethereum Address.
Now go to your Binance account and buy at least $10 BUSD if you don't have any, and send the BUSD to your MetaMask wallet. When you are withdrawing from Binance to your MetaMask wallet make sure you select 'Binance Smart Chain (BSC)' as the transfer network.
Once your transaction is successful we need to add BUSD to your MetaMask so we can see your BUSD balance.
To do this, first open MetaMask in the Expanded view mode: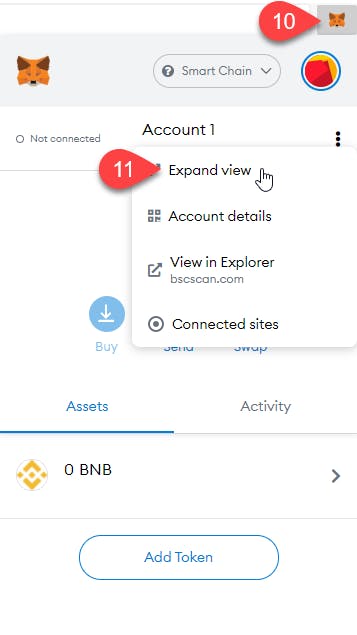 Open a new Tab and go to https://www.bscscan.com/. As you become more familiar with Cryptos you will be using this website a lot. This is the ledger/record book where all transactions on the Binance Smart Chain (BSC) are recorded and where we can find the address of our Tokens. There will be a further guide on this but this is a great start.
Type 'busd' into the search box and select the below result: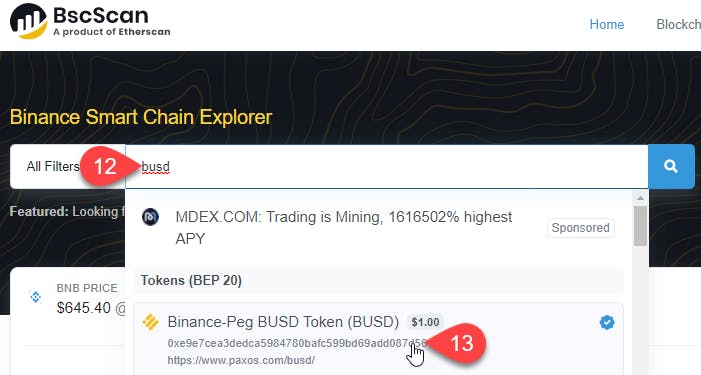 You will now be taken to the below page. Now you need to copy the Contract address for BUSD. Think of the contract address as the IBAN/BIC or Sort Code and Account number for a bank account. This Contract address is the identification number of BUSD so by adding it to our MetaMask it will know our balance:

Now go back to your MetaMask Tab and select 'Add Token':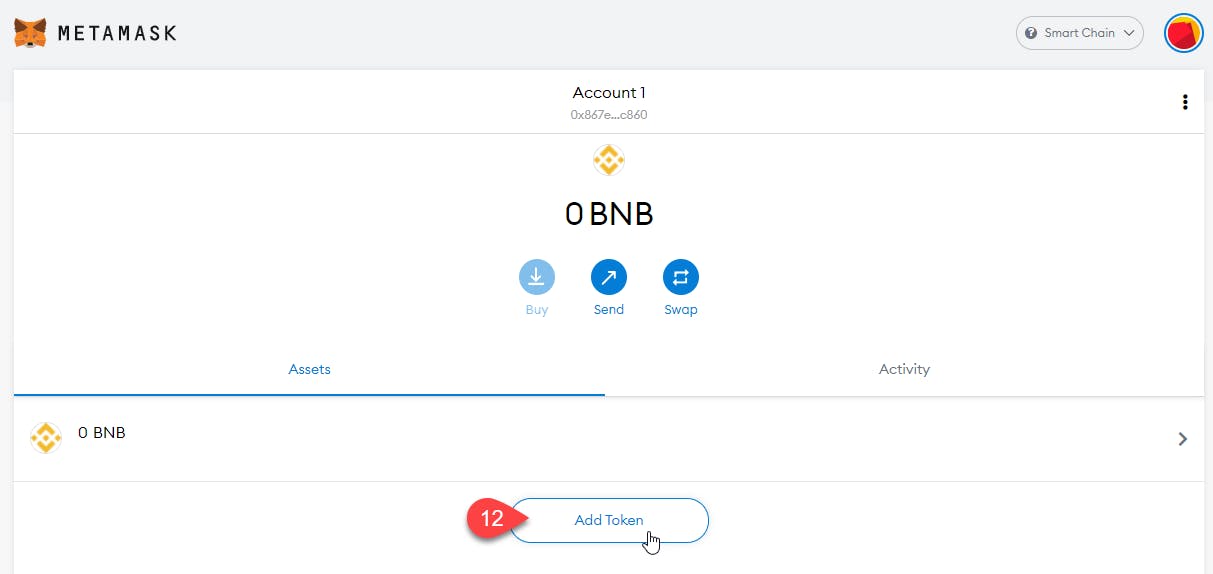 Follow the below steps and paste in the BUSD contract address into the 'Token Contract Address' field: 
BUSD Contract Address = 0xe9e7cea3dedca5984780bafc599bd69add087d56
Once you've pasted the BUSD contract address in the Token Symbol and Decimals of Precision fields will auto-populate: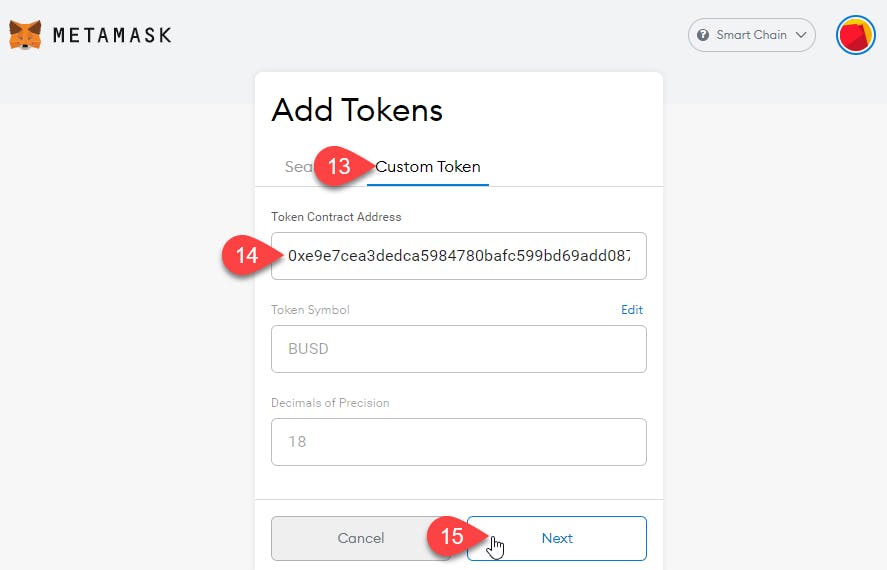 Your BUSD amount should now show. If it doesn't show do not worry it may take up to 10 minutes from sending the BUSD to show:
Select Add Tokens: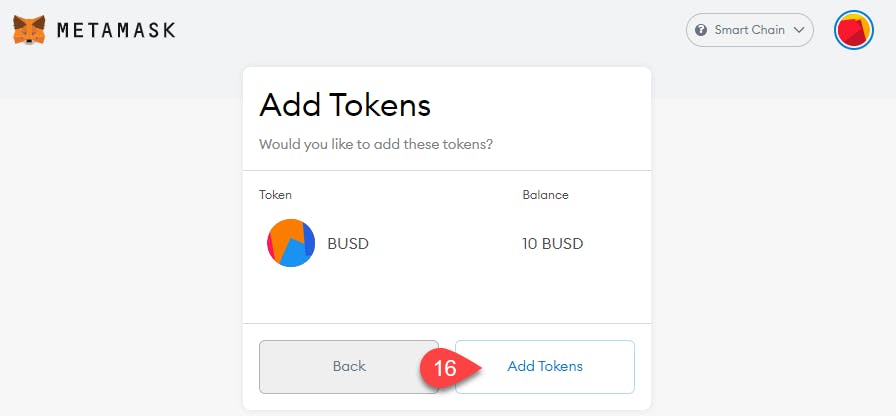 Congratulations, you've just successfully added a custom Token to MetaMask!
Click Account to go back to the MetaMask homescreen: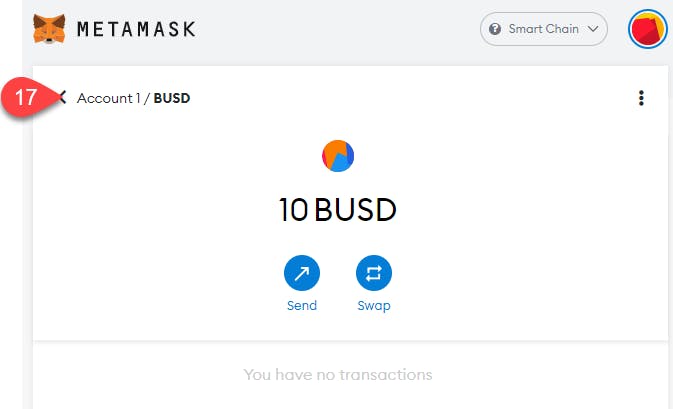 The final step is to send BNB to your Binance Smart Chain Wallet on MetaMask. This is because BNB is used as the fuel for all transactions on the Binance Smart Chain. Therefore, if your wallet doesn't have any BNB, you won't be able to perform any transactions. 
The minimum withdrawal from Binance is 0.02 BNB, now send the minimum amount of BNB from Binance. Once the BNB has been recieved you can now perform transactions on the Binance Smart Chain. Remember to keep your BNB topped up so you can perform transactions.
The reason we didn't get you to just add BNB first is because being able to add a custom token to your MetaMask is a valuable skill that will pay dividends in your future crypto journey.