OXBull is an IDO (Initial DEX Offering) Launchpad. Think of it as a sort of Kickstarter but for new Cryptocurrency projects. The catch for these IDO Launchpads is that you need to own the Launchpad's own currency in order to be eligible to take part. Typically, there is a tiered system in place with those who own more tokens receiving a higher allocation.
The OXBull team hand pick projects for their platform. This means their projects are thoroughly researched and strongly vetted, as they want to bring value to the OXBull community and the OXBull token. They tend to focus on more tech-based projects. Generally speaking though, the projects that have launched on OXBull have done very well and have brought the LUNR community some incredible profits.
The Crypto space is full of launchpads at the moment, and it seems like more come out everyday. We've found that most launchpads are overly complex in understanding how they work, how you get whitelisted (the process for getting your wallet address approved to buy), and how well their past projects have done. You would think they would make it easy for you to understand, but they don't!
OXBull is one of the better ones we have found though , for a number of reasons:
We like the straightforward process
You can get guaranteed allocation (we don't like lottery systems)
Their social media is organised and helpful
Their projects have a great track record
We love the reflection rewards. 2% of all transactions are taxed and redistributed to the holders of OXBull. This means you earn OXB just by holding it in your wallet!
How do I buy OXBull (OXB)
We recommend using PancakeSwap to buy OXBull. If you don't know how to use PancakeSwap, check out our guide. You will need to add the OXB contract address to PancakeSwap (the address can be found here).
How do I take part?
There are 3 tiers and you need to meet the requirements of a tier in order to get whitelisted and be assigned allocations. We recommend tier 1 or 2:
Tier 1 - You need to own 8,000 OXB (Guaranteed allocation. You do not get more allocation if you have more than 8,000 OXB)
Tier 2 - You need to own between 1,000 - 4,000 OXB (Guaranteed allocation. Your allocation increases until you reach 4,000 OXB at which point it's capped)
Tier 3 - You need more than 50 OXB in your wallet and you need to complete a whitelist form (Allocation not guaranteed)
After you've purchased your OXB, you need to 'Smart-Stake' it which means going to this page and enrolling in the relevant pool. You have to Smart Stake your OXB 5 days before an IDO. If you're tier 2 and you miss this deadline you can join the 7 day timelock pool which can be found here. Please note that by joining the 7 day timelock pool that you will earn no rewards so it's best if you join the Smart Staking pool.
Be sure to read this official guide thoroughly though to ensure you're following the most up to date guidance from OXBull.
***Note that some users are having issues enrolling in the smart staking in tier 2. If this is the case for you, you might want to join the 7 day timelock pool. You do not get any rewards for being in this pool though***
How long do I have to contribute to a new project?
Tier 1 - Get a 9 hour window to purchase
Tier 2 - Get a 30 minute window to purchase
Tier 3 - You have to wait until Tier 1 and 2 sales have concluded, meaning you will need to be online and monitoring their telegram channels for updates. This tier is also on a first come first served basis. Usually this tier sells out in under a minute.
Is there anything else I should know?
Yes - you need to stake your OXBull at least 5 days before a new project launches to be eligible to take part. You should review this much more detailed post by the OXBull team on Medium for more details on how to do that.
How do I stay up to date on OXBull news?
We recommend that you follow/join the below OXBull social media accounts to stay up to date with the latest news:
Telegram Announcements Channel
How well have their past projects done?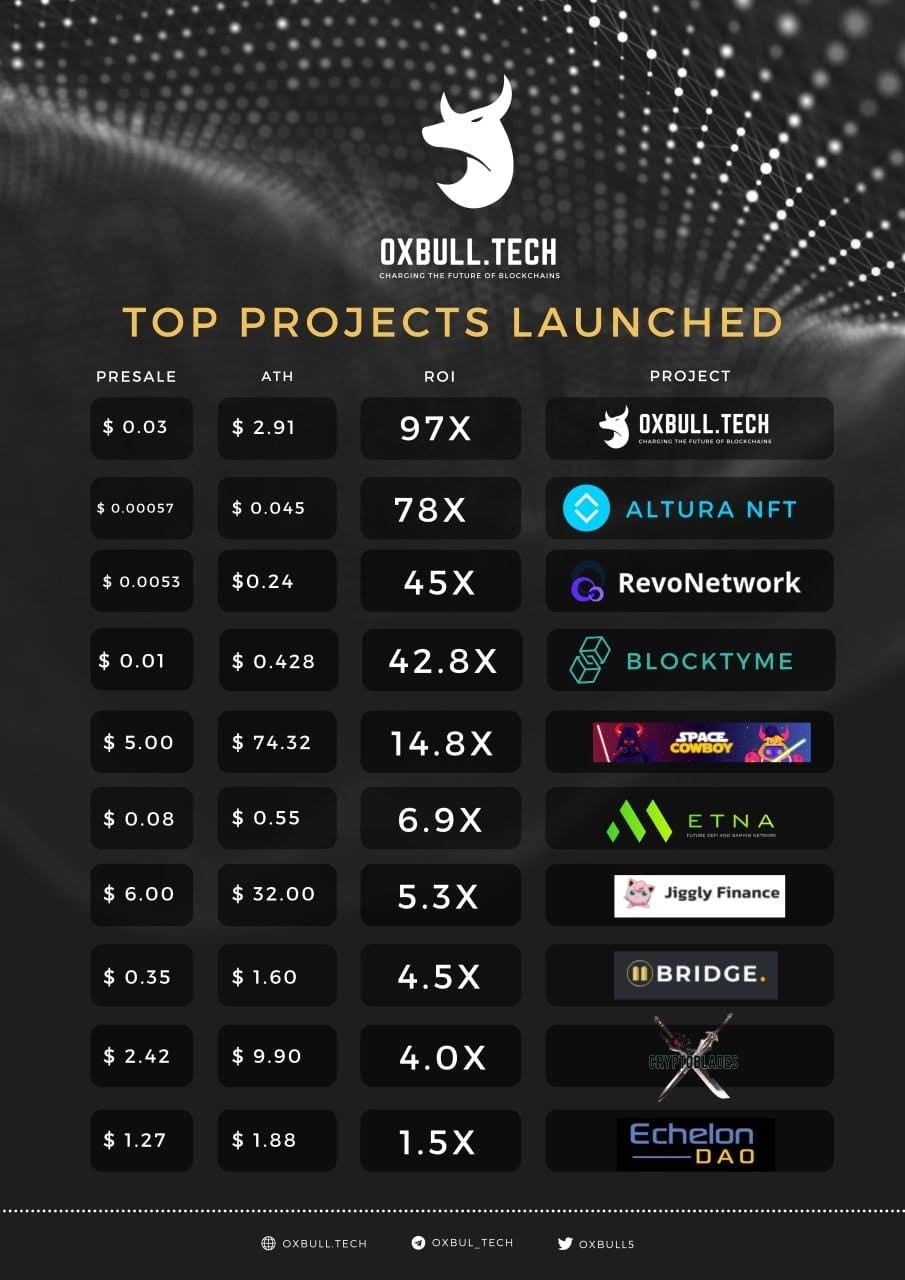 What's the buying process like?
Firstly, you need to monitor the OXBull social media accounts to make sure you don't miss any IDO's. I recommend checking their Medium regularly for updates as the Medium post will include all the relevant information that you need. Set a reminder for when your tier is listing so you can contribute.
You can go to this page closer to the IDO release and it will tell you if you're whitelisted or not and it will have a countdown to when that tier opens. Here's an example: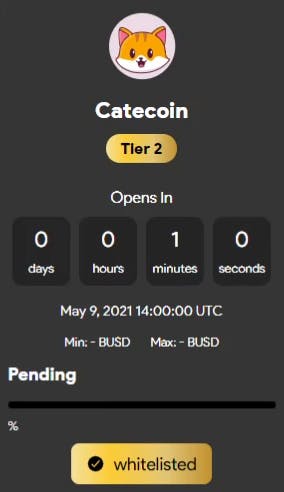 Once you're slot opens you will have a limited amount of time to buy (Tier 1 = 9 hours. Tier 2 = 30 minutes). Here's an example of both tiers:
Enter your contribution amount - we recommend always using the maximum. This is a onetime transaction; if you do not enter the maximum, you cannot contribute more later.
Once you've approved the transaction and it's been confirmed by the network, you will get a confirmation transaction hash appear at the bottom of your tier section. See below examples: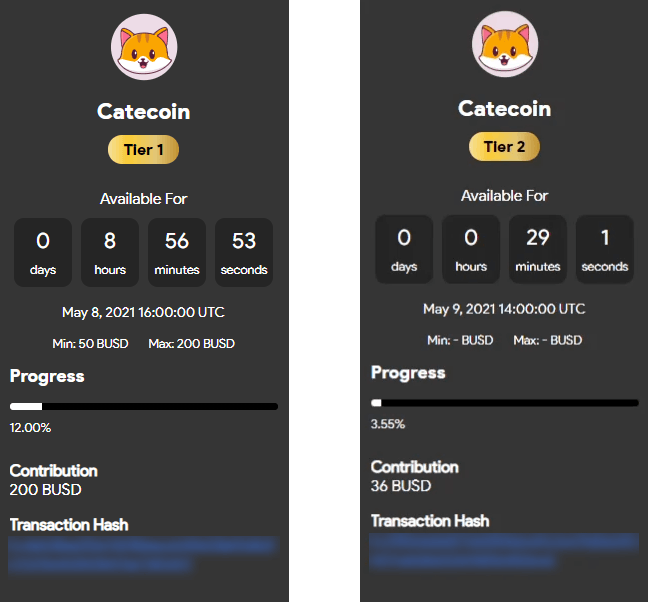 Receiving your new tokens
Most IDO's are different in terms of how many of your tokens you will receive. For instance, you will more than likely only receive 50% or less of your allocated tokens around 10 minutes after the project launches on PancakeSwap. You will receive the rest of your tokens at a designated point in time after the launch. Read the IDO Medium post thoroughly so you're aware of how many and when you'll receive your tokens.
E.g. for CATECOIN Tier 1 you could contribute $200. Assuming you did so, you would get 40% of that allocation at the launch ($80). You would then receive 20% every subsequent 10 days. So to summarise: you got 40% of your tokens 10 minutes after listing and then the remaining 60% over 30 days (20% every 10 days).
Advanced tips from LUNR
Tier 1 members
If you are a tier 1 member and you have over 8,000 OXB in your wallet you can increase your earning potential by:
Selling your excess OXB
Holding onto your excess OXB in the hope OXB continues to increase in value
*Recommended* Start a second OXB account. To do this all you need to do is setup another Wallet (you can add multiple wallets to the same MetaMask account) and send your excess OXB to it and repeat the enrolment process. Wait until you have around 1,000 surplus OXB (remember to factor in the 2% transaction tax). Now you have a Tier 2 account which you can use to get more allocation and make more gains! The best part is this second account was totally free if you do it just from the reflection rewards.
Tier 2 members
If you are a tier 2 member and you've hit your 4,000 OXB cap, it's a long way to tier 1 and you don't get any more allocation until you hit 8,000 OXB. Reaching tier 1 should be your next goal. You can get to tier 1 much quicker by following this method.
When you reach 5,000 OXB start a second wallet (you can add multiple wallets to the same MetaMask account) and send 1,000 OXB (remember to factor in the 2% transaction tax) to your second wallet. Now you have a second tier 2 account and you will get allocation on this second account which means more gains! Continue to send any surplus OXB from your first account to your second account to help grow the second account and help it get more allocation. Once your second account has reached 4,000 OXB and your first account has 4,000 OXB you now have a tier 1 account, all you have to do is send the OXB from your second account to your first account and now you have a tier 1 account! We would now recommend following the tier 1 advanced tip!
We hope you've found this guide useful. Be sure to check the official OXBull social media accounts regularly for the most up to date information as this guide will not always be up to date. Of course we will try out best to keep it updated.